News and Bulletins
The Hilltop Institute periodically posts news items and issues electronic bulletins to disseminate information about Hilltop activities and publications. Below are the three most recent. Go to the News and Bulletin Archive, below, to view previous posts.
Bulletin: Hilltop Publishes Findings from Analyses on Maryland's Dual-Eligible Population
The Hilltop Institute has published a chart book and three reports on the demographics, service utilization, and expenditures of Maryland's dual-eligible population. The analyses focus on Medicare beneficiaries in Maryland who also receive full Medicaid benefits. The findings provide an overview of how this population accesses health care services, the types of services used, and where the services are provided.
Posted 2/18/16
Hilltop Presents at Green and Healthy Homes Initiative Leadership Institute
Hilltop staff participated in two sessions at the 6th Annual Green and Healthy Homes Initiative (GHHI) Executive Leadership Institute held December 7 through 9 in Baltimore, MD.

Director of the Hilltop Hospital Community Benefit Program, Gayle D. Nelson, JD, MPH, gave a presentation on a panel titled Making the Case to Healthcare, which addressed options for obtaining sustainable funding sources for healthy housing projects. In her presentation, titled Aligning Hospital Community Benefit, Community Health, and Healthy Housing, Nelson explained that federally tax-exempt hospitals are required to provide benefits to their communities in exchange for tax exemption; and outlined approaches, detailed in IRS regulations, that organizations can use to present their cases to hospitals. View the slides.

Senior Research Analyst Michael T. Abrams, MPH, participated in an interactive session titled Data Collection and Evaluation: Cost Benefit Analysis for GHHI Interventions. The session outlined—for GHHI leadership and partners—strategies and specific methods used to evaluate and monitor an intervention. Abrams described a HUD-funded project in Baltimore City that aims to assess the impact of GHHI's in-home asthma-abatement intervention on health care utilization, heating/cooling energy use, and work/school attendance.
Posted 12/10/15
Hilltop's Michael Abrams Gives 2015 Shinogle Fellowship Lecture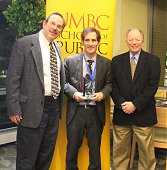 On Friday, December 4, Hilltop Senior Research Analyst and UMBC Public Policy PhD candidate Michael T. Abrams, MPH, gave the 2015 Judith A. Shinogle Memorial Fellowship lecture at UMBC. Abrams discussed the research projects—spearheaded by Shinogle before her tragic death in 2012—that he and UMBC researchers are conducting to inform policy decisions about health care and treatment for adults with serious mental illness, and children with asthma. He also discussed his dissertation research, which focuses on the impact of news coverage on the dissemination of prescription drug warnings issued by the U.S. Food and Drug Administration.

Colleagues from Hilltop and UMBC's School of Public Policy, faculty mentors, research partners, friends, and family members joined Abrams to celebrate his achievement. The award was established by Shinogle's family in her memory to provide encouragement for doctoral students committed to health policy research. Abrams was selected by a faculty committee in recognition of his outstanding scholarship and research in health policy. At Hilltop, Abrams conducts quantitative and qualitative policy and health services research related to the brain and the behavioral health of Medicaid and other low-income populations.

Posted 12/8/15