The Hilltop Institute periodically posts news items and issues electronic bulletins to disseminate information about Hilltop activities and publications. Below are the three most recent. Go to the News and Bulletin Archive, below, to view previous posts.
Bulletin: Hilltop's Community Benefit State Law Profiles Used to Determine Relationship between State Regulation and Community Benefit Spending
A study in the April 2018 issue of the Journal of Health Politics, Policy, and Law investigated the relationship between state regulatory requirements and hospital community benefit expenditures using The Hilltop Institute's online resource, the Community Benefit State Law Profiles and Internal Revenue Service data.
05/17/2018
Hilltop's Jennifer Smith Gives 2017 Shinogle Award Lecture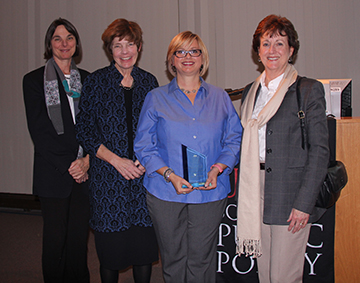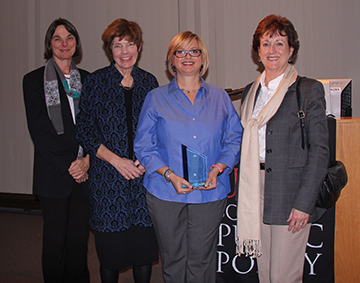 On Tuesday, November 28, Hilltop Senior Programmer and UMBC Public Policy PhD candidate Jennifer Kitlas Smith, MPH, gave the 2017 Judith A. Shinogle Memorial Award lecture at UMBC. Smith discussed her dissertation research, which focuses on the comparative effectiveness of two asthma treatments—medication administered by inhaler vs. medication administered orally.
Colleagues from Hilltop and UMBC's School of Public Policy, faculty mentors, community leaders, friends, and family members joined Smith to celebrate her achievement. The award was established by Shinogle's family in her memory to provide encouragement for UMBC Public Policy doctoral students committed to health policy research. Smith was selected by a faculty committee in recognition of her outstanding scholarship and research in health policy. At Hilltop, she performs SAS programming using Medicare, Medicaid, Maryland hospital data, and the Maryland All-Payer Database to assess quality, cost, and utilization patterns for the Medicaid/Exchange churn population, mental health, substance abuse, and dual eligible populations in order to analyze large health care data sets for quality of care, outcome measurement studies, and program assessment.
Watch Smith's presentation >
View the slides >
12/05/2017
Bulletin: Hilltop Welcomes Two Senior Directors
Hilltop is pleased to announce the addition of two new senior directors: Jim Clavin, MBA, Chief Technology and Compliance Officer, and Alice Middleton, JD, Chief of Staff.
10/17/2017